The Minelab Equinox is one of the best selling metal detectors on the market today. With its Mulit-IQ Technology and wide range of features, being light weight, and easy to use the Equinox is a great metal detector for the money. But is there something better?
XP Metal Detectors recently released the XP DEUS II metal detector that incorporates its own multi-frequency technology they are calling FMF (Fast Multi Frequency). The DEUS II is extremely lightweight, completely wireless, and now 100% waterproof. XP is known as being innovators in the metal detecting industry. XP's DEUSS II shows off new innovation while still being the lightest metal detector on the planet. The DEUS II is getting rave reviews and may have given Minelab some competition in the multi-frequency arena.
Please note: I have finally received my XP Deus II and I have done a full review and you can read about my thoughts on the Deus II here. If you are looking for more instruction on how to use the Deus II check out the article "How to Use The XP Deus II (Beginners Guide)"
This article will compare the most common features of both the XP Deus II and the Minelab Equinox 800.
How Does The Deus II Compare to the Equinox?
I took a look at some of the key features of both metal detectors and placed them side by side in the table below for comparison. However, performance will be the ultimate factor in determining which metal detector is better. Unbiased performance tests are starting to show up on YouTube for the XP Deus II.
| | | |
| --- | --- | --- |
| | XP DEUS II | Minelab Equinox 800 |
| MSRP Price | $1599 | $949.00 |
| Warranty | 5 Years | 3 Years |
| Weight | Approximately 2.20lb (lightest on the market) | 2.96 lbs |
| 100% Waterproof | Yes | Yes |
| Diving Limits | Down to 66 feet (IP68 Certified) | Down to 10 feet |
| Waterproof headphones | Sold Separately | Sold Separately |
| Standard Coil Size | 11″ DD or 9″ DD Coil | 11″ DD Coil |
| Coil Options | 11″ DD or 9″ DD (possibly more in the future) | Minelab 11″ 6″ and 15″ |
| After Market Coil Options | None at this time | Coiltek 10×5″, 14×9″, 15″ |
| How many search modes? | 12 Factory | 8 Factory |
| Search Modes | General, Sensitive, Sensi FT, Fast, Park, Deep HC, DEUS Mono, Gold Field, Relic, Diving, Beach, Beach Sens | Park 1/2, Field 1/2, Beach 1/2, Gold 1/2 |
| How many customizable search profiles? | 12 Additional slots | 1 Additional |
| Simultaneous Multi Freq | Yes (Fast Multi Frequency) FMR | Yes (Mulit-IQ) |
| Operating Frequencies | 4 to 45kHz | 4, 5, 10, 15, 20, 40kHz |
| All Terrain Use (Including Beach)? | Yes | Yes |
| Software Updateable? | Yes | Yes |
| Ground Balance | Yes | Yes |
| Pinpoint Capability | Yes | Yes |
| Volume Adjustment | Yes | Yes |
| Reactivity Speed Adjustment | Yes (called Reactivity) | Yes |
| Iron volume Adjustment? | Yes | Yes |
| Pin-Pointer Pairing (Headphones) | Yes (MI6 Pin-Pointer only) | No |
| Battery Life | Remote Control (30 Hours), Headphones (17 hours), Coil up to (20 hours). | 12 Hours |
| Battery Charge Time | 3 hours if charging all components at the same time | 2-3 hours |
More Information on The DEUS II Search Modes
The previous Deus search modes were far from perfect. If you were an original Deus owner you understood that fining tuning the Deus brought out the best it had to offer. But to many, this was too complicated and/or difficult to understand. Unfortunately, this was significant drawback and deterrent from many detectorists who just wanted to turn on the Deus and go metal detecting.
However, early tests and videos are showing that the DEUS II search modes are proving to be working very well out of the box with very little adjustments. The Deus II is looking more like a turn on and go metal detector. Depth (discussed more below) and target IDs are proving to be very promising for Deus II. Below is a more detailed list of the Deus II search modes and their suggested use based on the ground conditions.
| | |
| --- | --- |
| Search Mode | Frequency Configuration and When to Use it |
| 1. General | Uses Fast Multi Frequency (FMF) up to 40kHz – uses low and high frequencies. It's great for all around use and good for beginners and seasoned experts. Better confidence on deep targets. |
| 2. Sensitive | Uses FMF up to 40kHz – uses low and high frequencies. Very efficient, works well in mineralized and trashy ground when searching for small targets. Reactivity is set at 2.5 |
| 3. Sensitive FT | Uses FMF up to 40kHz – FT stands for Full Tones. Similar setup as the program 2 but uses full tones and uses a Reactivity setting of 3 instead of 2.5. Designed for more experienced users. Works well in mineralized and trashy ground. |
| 4. FAST | Uses FMF up to 40kHz – Similar setup to program 2. Audio is set to Pitch and a Reactivity of 3. Plus, this program uses the square audio option. This program operates fast in iron and mineralized ground. |
| 5. Park | Uses FMF up to 24kHz – Good for recreational parks and dry sand beaches. |
| 6. Deep HC | Uses FMF up to 14kHz -Stands for Deep High Conductor. Good for coins, coins spills i.e. high conductor targets. |
| 7. DEUS Mono | Uses 1 (Mono) frequency adjusts from 4 to 45kHz. Works in a single frequency. Good for EMI rejection, Use when in conditions where FMF is not suitable due to interference etc. |
| 8. Gold Field | Uses FMF up to 40kHz – Good for highly mineralized ground conditions while hunting for gold. This program is set to all metal to get better depth. |
| 9. Relic | Uses FMF up to 24kHz – This program operates similar to program 8 but notice the difference in frequencies. Uses a low reactivity. |
| 10. Diving | Uses FMF up to 14kHz – Good for diving or submerging in salt water conditions. |
| 11. Beach | Uses FMF up to 24kHz – This program is designed to be used on wet sand. |
| 12. Beach Sens | Uses FMF up to 40kHz – This beach program will operate the deepest on wet sand but it will also be more reactive. |
Reactivity vs. Recovery Speed
The XP Deus and The XP Deus II use what XP calls "Reactivity" which is also equivalent to the "Recovery Speed" on the Minelab Equinox. Does the XP Deus II have a faster recovery speed than the Equinox? Early tests and videos of side by side comparisons are showing that the Deus II has the advantage. The XP Deus has always been a really fast metal detector and it appears that XP has definitely improved what was already a very fast machine. Their proprietary use of Fast Multi-Frequency (FMF) appears to be giving them an edge over the Equinox.
XP Deus Reactivity Chart
| | |
| --- | --- |
| Reactivity Number | Recommended Use |
| 0 to 1 | Large objects and coins, ground is not contaminated |
| 2 to 2.5 | Normal use, very little trash or contamination |
| 3 to 5 | Use when the ground is full of iron and/or mineralized ground |
Does The XP Deus II Get Better Depth Than The Minelab Equinox?
Based on numerous tests that are now available on YouTube posted by several channels, the XP Deus II is edging out the Equinox in just about every test I've seen. In some cases the depth the Deus II is getting is really impressive while maintaining a good target ID at depth. If you are an original Deus owner, you will appreciate better target ID at depth with the Deus II. This was something the original Deus struggled with.
Can You Eliminate Bottle Caps With The XP Deus II and Equinox?
Eliminating bottle caps from being heard with a metal detector is not something that is easy to do. However, Minelab added a feature in their Equinox software update 3.0 that added an enhanced feature under their F2 setting that did in fact eliminate bottle caps from detection. This feature can be found under the Recover Speed Menu by holding down the "Gear" button. You will be in the FE option but by selecting the "accept/reject" button you will see FE change to F2. You can adjust the rejection from 0 to 9. I found that using 7 on most of my tests is where the bottle cap was significantly rejected. You can see my tests in the video below.
XP Metal Detectors has also added a feature to its Deus II that will also eliminate rusty bottle caps. You can find this feature under the Discrimination Menu by going into the Expert options. It is called "B.Caps". You have the option of adjusting the rejection from 0 to 5 by using the + and – buttons. You can find this feature on page 16 of the Deus II user manual found here

How Many Mono Frequencies Does The XP Deus II and Equinox Have?
Both the Equinox and Deus II use their own multi-frequency technology which has its own advantages over single frequency use. However, there will be times when multi-frequency use will not be possible due to EMI or interference. Being able to switch to a single (mono) frequency can help clear up EMI or interference.
The Minelab Equinox can use the following single frequencies:
4, 5, 10, 15, 20, and 40kHz.
The XP Deus II can use the following single frequencies:
4, 7, 15, 21, 28, 35, 45kHz
Can You Pair Your Wireless Headphones to Your Pin-Pointer?
One of the great features of the original Deus was the ability to pair the MI-6 Pin-Pointer with your headphones. XP decided to keep that feature in the Deus II. You have the option of pairing your MI-6 Pin-pointer with your Deus II wireless headphones. If you want to find out more about the XP MI6 or MI4 Pin-pointers I wrote up a comparison article and you can find it here.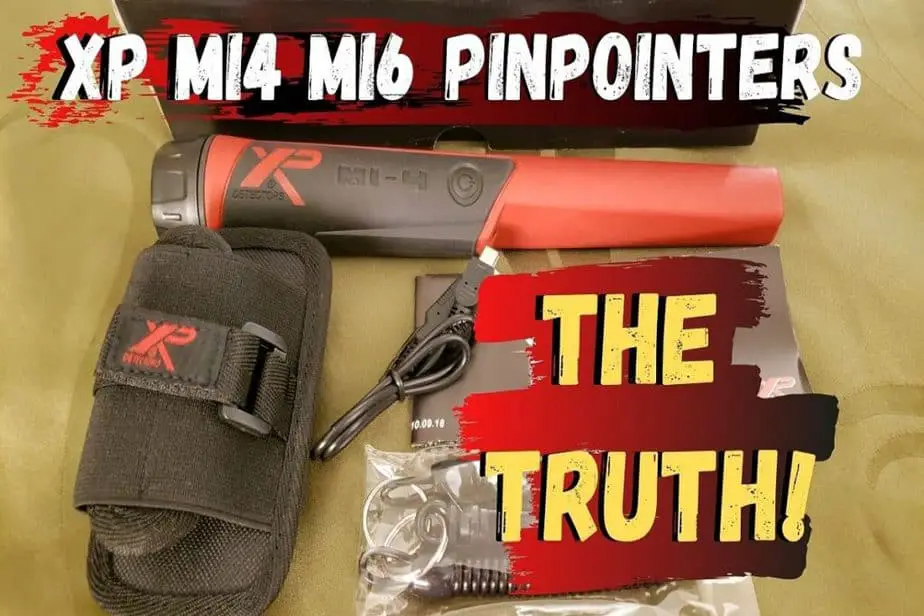 On the other hand, Minelab does not offer this feature for the Equinox. However, you can configure your Equinox low latency blue tooth headphones to take phone calls while detecting as long as you have your headphones paired with your cell phone.
What Search Coils are Compatible With The XP Deus II?
The only search coils currently compatible with the XP Deus II are the 9″ DD and the 11″ DD coils. In the past, XP did release additional coils for the original Deus that included an HF elliptical and 9″ HF round coil. They later came out with the X35 line of coils that offered more stability and wider frequency band. Could XP do something similar with the Deus II? Perhaps but I wouldn't expect to see anything come out in 2022.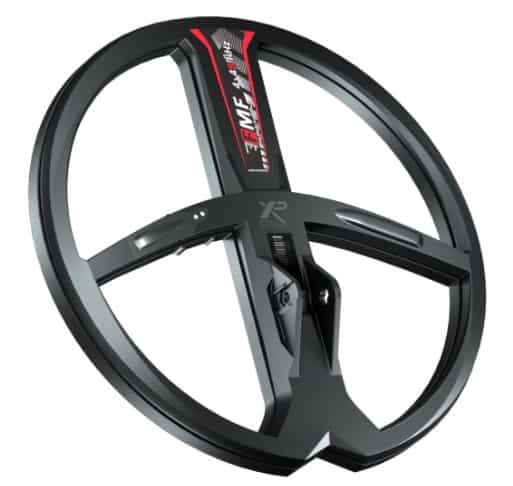 What Search Coils are Available for The Minelab Equinox?
Minelab offers 2 additional search coils that are compatible with the Minelab Equinox 600 and 800 metal detectors. They offer a 6″ DD and a 15″ DD search coil. I own both of these coils and if you want more information about either of these 2 coils you can find it here or by clicking the image below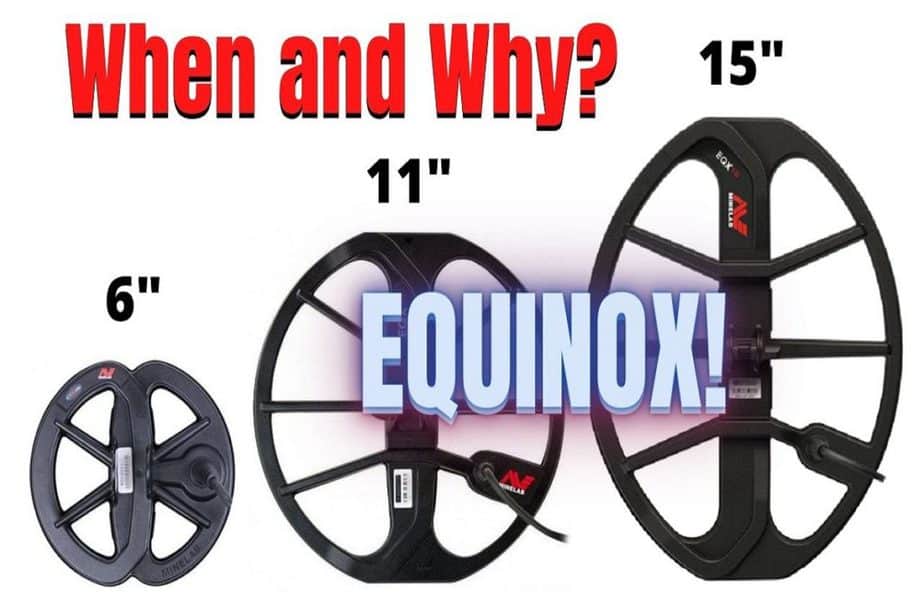 Are There Any After Market Search Coils for The XP Deus II?
Currently, there are no after market search coils available for the XP Deus II. I don't expect to see any after market coils come on to the market for the Deus II. The original Deus never saw any after market coils developed. Most of XP's technology is built into their search coils and this is a feature exclusive owned by XP.
Which After Market Search Coils are Available for The Minelab Equinox?
One of the advantages Minelab has over XP is the numerous search coil options available for the Equinox. Originally, Minelab released 2 additional search coils for the Equinox. The 6″ and the 15″ DD coils (mentioned above). Both coils are still available and being offered by Minelab through various vendors. We recommend reaching to Fort Bedford Metal Detectors if you are interested in getting one of them.
However, in 2021 Coiltek came out with 3 additional after market search coils for the Equinox. Coiltek now offers a 10×5, 14×9, and 15 inch DD coils. I personally own the 10×5 DD and I think its a fantastic coil for the Equinox. I have found it to be great for water detecting and for use in forests or tight areas where the stalk 11″ coil is too big to maneuver. I also have more information on these coils available here. You can also see my review of the Coiltek's 10×5 below.
Where Can You Purchase a Deus II or Equinox?
No matter what you get out of this article, the facts are the facts. Both the Deus II and the Equinox are excellent metal detectors and while some of you will never part with your Minelab, Garrett, XP, Fisher, etc. machines, there will be others who may like something in one of these metal detectors that might draw them into trying something new.
Regardless of your pick, you can be rest assured that both companies offer quality products and performance. You can't go wrong with either one of these metal detectors. They will find the targets the lurk benath the ground. In some conditions, one detector may out preform the other. If you are looking to purchase a metal detector, search coil, pin-pointer, etc., please consider using our friends at Fort Bedford Metal Detectors. They have been providing quality service and support to many of us and we are happy to refer them to you. Reach out to Keith Leppert. Their website and contact information is shown below. Tell them MentalMetalDetecting.com sent you over.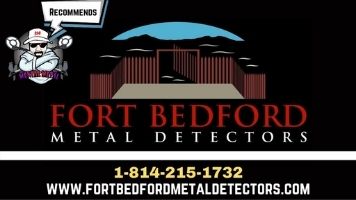 Mental Metal Detecting is a proud participant in the Amazon Services LLC Associates Program, an affiliate advertising program designed to provide a means for sites to earn advertising fees by advertising and linking to Amazon.com. Mental Metal Detecting also participates in affiliate programs with Bluehost, ShareASale, and other sites. Mental Metal Detecting is compensated for referring traffic and business to these companies.