The XP Deus II is the latest metal detector released by XP metal detectors. The Deus II comes loaded with tons of features and configuration options. The Deus II can adapt to just about any land or water condition. This metal detector can see depths of up to 66 feet underwater. The Deus II is a completely wireless metal detector with one exception which is the antenna that needs to run up the shaft to control box for underwater conditions. The weight of the machine still remains one of the lightest metal detectors on the market today.
In this article I will be going over some of features that I feel are worth mentioning as well some of the negative items that I think need to be addressed. But first, feel free to watch the unboxing video below. I pull everything out of the box so you know exactly what you are getting for your money.
Is The XP Deus II Worth the Money?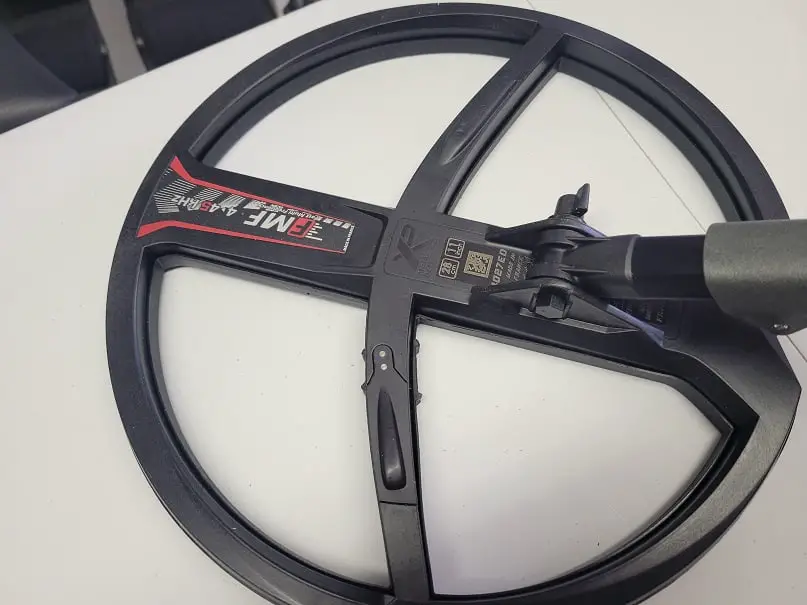 The XP Deus is selling for around $1599 and based on my research and testing the answer is yes. I've had enough time on this machine to know that it is the real deal. If you have never owned the original Deus or ORX, the Deus II will not disappoint you. XP listened to their customer base and built the Deus II around simplicity but packed it full of power, capability, and a ton of features. However, it is one of the easiest machines to learn right out of the box. But XP didn't stop there, they setup this machine up for success by pre-programming 12 search modes that are all great and work well and get excellent depth.
What are My Favorite Deus II Search Modes?
Out of the 12 stock search programs there are a few that are quickly becoming my favorites. They are listed below:
Program 1 General – A great all around program that beginners and experienced users will enjoy.
Program 4 Fast – If you encounter ground contamination or mineralization this is the program to use. It gets incredible separation letting you hear those non-ferrous targets buried amongst the ferrous targets.
Program 5 Park – If you enjoy hunting those trashy permissions full of can-slaw this program is for you. Turn on the XY screen for a bigger advantage.
Program 6 Deep HC – This program will amaze you with its detection depth and signal clarity.
Also, if you update the software to version 0.6 you will receive 2 additional programs for a total of 14 pre-loaded search modes for the Deus II. I haven't had a chance to test them but I will in the future.
What are The New Deus II Features That Stand Out?
Control Box: When you hold the Deus II in your hands for the first time the first thing you notice is the control box. The buttons and control housing are superb. The control housing is shock proof that protects the Deus very well. The buttons are easy to press.
Menu Navigation: Navigating the menu seems to be much easier than it was with the original Deus. The menu options seem to be organized well and easy to find.
Stability: The Deus II out of the box is so much more stable than the original Deus. It has been a pleasure to use.
Audio Control: You can configure the Deus II to sound just like your old metal detector. You Equinox owners will appreciate the audio controls in the Deus II.
Depth: The stock programs that come with the Deus II are getting really good depth. Put the Deus II in program 6 Deep HC and you will be amazed at the depth this program gets. (Note: Program 6 will eat up the battery life quicker than the other programs.)
Weight: The Deus is still the lightest metal detector on the planet. I forgot how much I missed swinging a Deus until I got the Deus II in my hands. What an absolute joy to swing. No arm fatigue whatsoever.
Pros
Like I mentioned earlier the XP Deus II comes packed full of features. This metal detector was built to last and should hold up well for many years. Here are some of the features that really stand out for me.
Stock Programs: Unlike the original Deus the new Deus II is ready to hunt right out of the box which is great for new users coming over from other machines
100% Waterproof: This was something original Deus owners were begging for and got. Not only is the Deus II 100% waterproof, it can be taken down to 66 feet underwater.
Fast Multi-Frequency (FMF): Multi-frequency technology was another feature the original Deus owners were hoping for in a software update. But XP had different plans. Instead, they decided to build it into the Deus II and you can immediately tell the difference in the stability of the machine and the number of targets the Deus II uncovers.
MI-6 Compatibility: A very popular feature that started with the original Deus was being able to hear your pinpointer through your headset. Luckily, that feature exists and you can still pair your MI-6 with the Deus II.
Lightweight: If you have never swung a Deus, the experience is life changing. They are the lightest metal detectors on the planet and they are an absolute joy to swing.
Audio Control: The original Deus has a very unique sound and it takes some time to get used to. Many folks coming over from other detectors were having a hard time adjusting to the Deus tones. The Deus II comes with several options to adjust the quality and sound of the targets.
Recovery Speed: This is referred to as "Reactivity" with the Deus II. There isn't a metal detector on the market that can get the separation and recovery speeds like the Deus II can.
Easy to Use: Because of 12 new stock programs, anyone new to metal detecting can pick up this machine and go hunting.
Highly Configurable: Unlike most metal detectors, the Deus II provides numerous options to control frequencies, iron audio, volume, discrimination, audio, display, separation, etc. Plus, you can save all of these settings as a different search program in one of the empty slots.
Ground Balance: Now referred to as a ground grab in the Deus II. XP made it really easy to ground balance the Deus II. All it takes is a simple hold and press of the pin-point button.
Frequency Scan: If you are experiencing EMI or interference just do a simple frequency scan by holding down the upper right hand button. Its quick and it does the trick.
Extremely Compact: You can collapse the Deus II down small enough that it will fit into almost every backpack out there. But if you wanted to look cool, XP makes their own back pack for the Deus and you can find it here on Amazon. https://amzn.to/3BYon8R
Cons
While there seem to be so many positive features with the Deus II, there are a couple "no so great" things that you should be aware of.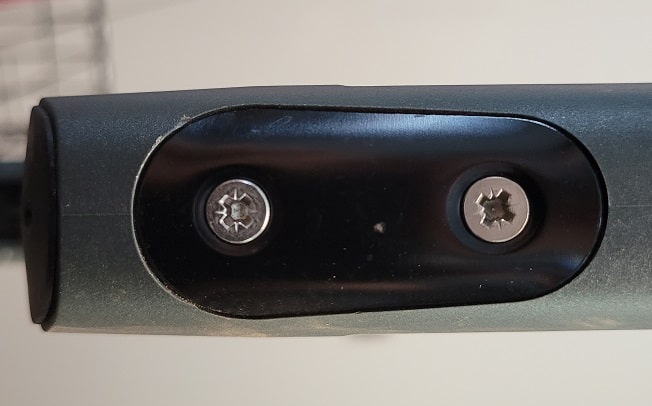 Screws Loose: Within a day of receiving my Deus II I lost one of the screws that secures the arm cuff on to the shaft. Luckily, I still have the original Deus so I took one of those screws and replaced it until my vendor sends me another. After searching around on the Internet I found out that this has happened to a few people. It might be a good idea to check your screws when you first get yours.
Search Coil Screw and Nut: I'm also seeing several people reporting that the screw and nut that holds the search coil to the shaft has been coming loose. Some owners are using Lock-tight to ensure the screw and nut won't get lose and fall off.
Software Updates: I found the instructions and the software to update the Deus II software to be sub-par. Even though I was able to figure it out this won't be so easy for others. Plus, I didn't see an option for reloading the software back to a previous version. If XP comes out with an update that may not be favorable to some, how can they revert back to a previous version? I suspect they will update the software and include downloads for previous versions.
Custom Programs Get Overwritten: If you decide to update the Deus II software you better write down your settings for all of your custom programs because the updates overwrite everything and your custom programs will not be saved. This was the case with the original Deus that is still annoying with the Deus II.
Highly Configurable: Yes I know I have this as a Pro as well. But its also is Con. The problem with being so configurable is that there will be a lot of new users who will get overwhelmed and never give the Deus II a fair chance. When you first start using the Deus II, I always recommend that new users stick to the stock programs and learn the machine for the first month or so. Then start making slight changes and build from there. See further down the article for my beginner videos for the XP Deus II.
Do You Want to See The XP Deus II in Action?
In the video below, I take the XP Deus II on it's maiden voyage to see how it performs at one of my hunted out sites. I think you will be as surprised as I was. I try and capture the sounds of the signals so you get an idea what the Deus II sounds like using the stock programs. I tried a combination of program 5 "Park" and program 6 "Deep HC". I also turned on the XY screen to help identify some of the targets.
Is The XP Deus II Easy to Use?
In general the Deus II is easy to use and setup right out of the box. However, it is very easy to get lost with all of the configuration options that are available. New owners will want to stick to the stock programs until they get a good understanding of the menu system and how to navigate through all of the options.
Fortunately, I thought ahead and recorded several videos to help especially if you are a new user of the Deus II. I'll get you up and running as quick as possible but without a lot of confusion. These videos are designed to teach you how to perform the basic functions of the Deus II so you can hit the ground running and shorten the learning curve.
XP Deus II Videos For Beginners
Lesson 1: How to Power Up, Change Audio Volume and Select a Search Program.
Lesson 2: How-to Ground Balance, Pinpoint, and Use Frequency Scan (Noise Cancel).
Lesson 3: Sensitivity, Reactivity, Discrimination, and Silencer.
Lesson 4: The X&Y Screen, How to Find it and Use it (With Examples).
Where Can You Purchase The XP Deus II?
I purchased my Deus II from Fort Bedford Metal Detectors. The shipping was fast and free and I highly recommend giving them a chance to earn your business. Contact Keith Leppert directly by calling the number below or by visiting their website.
My Final Thoughts on The Deus II
I am personally enjoying this metal detector. However, I have been witness to a lot of drama out there about this machine compared to its competitors. There is no one perfect metal detector out there but the Deus II comes pretty close in my opinion. Is the Deus II for everyone? No, the Deus II is complicated but at the same time it is also easy to use. For those who want a turn on go machine this might not be the machine for you. Yes, you can turn it on and detecting but the configuration options will turn people away. The Deus II is probably the most advanced metal detector on the market right now. If you don't take time to learn what it has to offer then you are probably better off staying with the machine you already enjoy.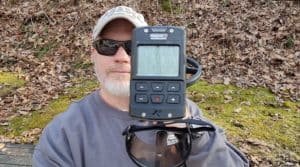 But if you love new technology and testing new equipment, give this the Deus II a swing. There is something really interesting about this machine that keeps me coming back to it. Am I ready to drop my Equinox 800 for the Deus II? No not yet but I feel there could be a time that I will.
If you do decide to purchase one of these machines, give it some time and patients. Watch a lot of the videos, don't engage in all the drama just enjoy the machine and the hobby because after all folks, that's what it is…a hobby. Thanks for reading. I hope this article helped some of you.
Mental Metal Detecting is a proud participant in the Amazon Services LLC Associates Program, an affiliate advertising program designed to provide a means for sites to earn advertising fees by advertising and linking to Amazon.com. Mental Metal Detecting also participates in affiliate programs with Bluehost, ShareASale, and other sites. Mental Metal Detecting is compensated for referring traffic and business to these companies.