If you are into metal detecting as much as I am you depend on a shovel that won't break but can surely take a beating from farm fields, woods, un-manicured lawns, and the one thing that most of us hate the most, ROCKS! 
I've been metal detecting since the early 1990's and I've tried numerous metal detecting shovels over the years but there are only a few that I really like and I'm going review 6 great metal detecting shovels that I own today. These shovels will give you the best metal detecting experience but that experience will also depend on the type of metal detecting you intend to do and the conditions you will encounter.
Let's start out with the brand everyone knows and that Lesche. You honestly can't go wrong buying a Lesche shovel. Lesche shovels are strong and will last you a lifetime. Their reputation speaks for itself. I own 4 Lesche metal detecting shovels. I'll summarize why I like each one and where some might fail under certain conditions. Plus, I also own the Radius Root Slayer but I have used 2 of their models and I'll go over each one and why I like one better over the other.
My New Pick for 2023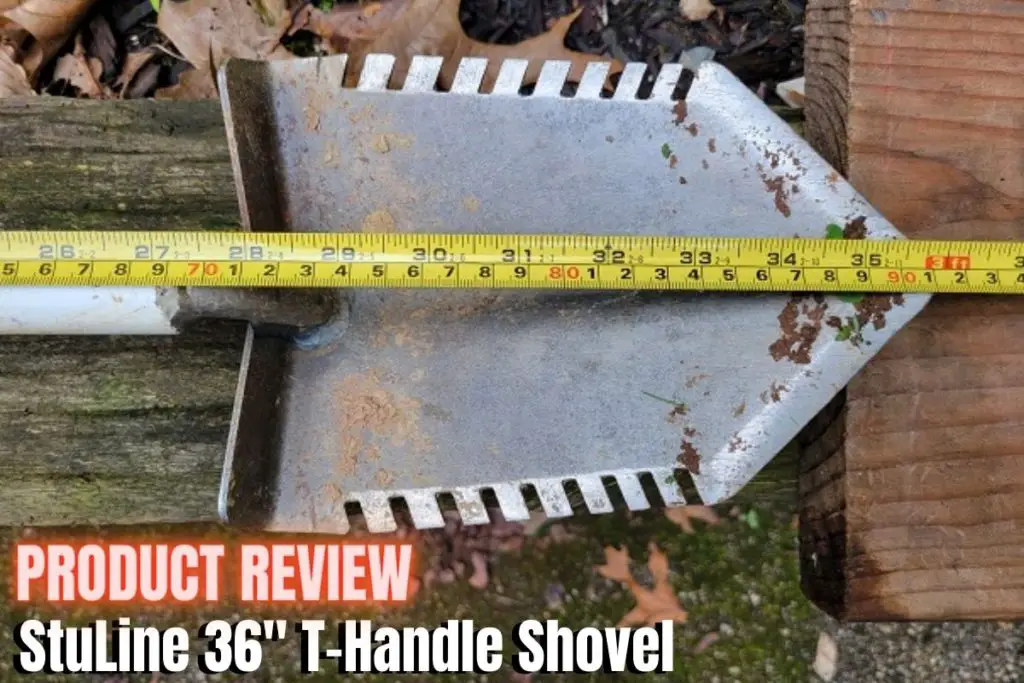 Before we get into the Lesche shovel picks, I wanted to highlight my new favorite shovel. While I love the Lesche shovels, I recently picked up the Stu-Line 36″ T Handle shovel from Kellyco and I absolutely love it. It is a little heavier than my Lesche shovels but this shovel cuts into the ground like butter. With 2 serrated blades on each side, cutting a nice plug is easy. I wrote up a full product review on this shovel that you can read here.
Lesche Sampson 31" T Handle
I uses the 31" Sampson the most. This is my "go-to" shovel for metal detecting. It's easy to carry around and only weighs about 4lbs. This shovel will cut through roots with its serrated blade on one side but the blade is small enough to make it easy for digging around ROCKS! If you ever see me out detecting I will almost always be carrying this metal detecting shovel. I really love it.
Lesche Sampson 18" T Handle
If I'm going on a long hike through the woods I will almost always pack the Sampson 18". Its small enough to stow in your backpack but rugged enough to get cut through roots and rocks. When I'm tracking deep into the mountains looking for those forgotten house sites this is my shovel of choice.
Lesche Ground Shark 31″ T Handle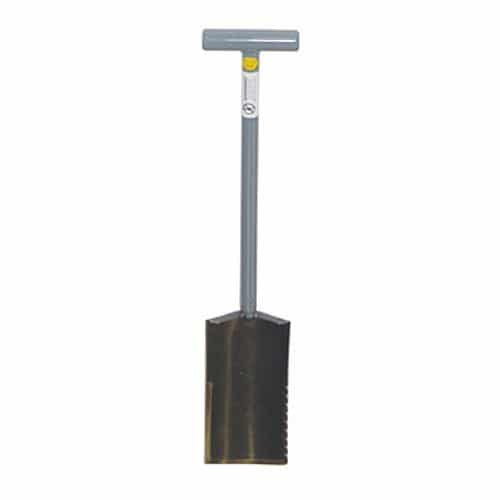 This is my least favorite Lesche but not because it isn't a good metal detecting shovel because it is. However, the conditions I find myself digging in don't usually require this type of shovel. If I'm metal detecting in sandy ground conditions then I'm taking this shovel. It works great on compacted sandy ground but not so good when you need to cut through weeds and grass. You definitely don't want this shovel to dig around roots. The blade is a little too wide. It has its purpose but for me it does a better job of digging up bulbs and planting flowers in garden beds.
Lesche Standard Digging Tool
This hand held "little Lesche" as I affectionately call it was given to me as a gift. What a gift it was. It is always with me. I really depend on this Lesche to get me through the last little bit of dirt to ensure I retrieve my target undamaged. The last thing you any detectorist wants to do is put his shovel through a silver or gold coin that's why every metal detectorist should own one of these and have it on them at all times. It's also great for digging bottles out of civil huts or trash pits.
Radius Garden Root Slayers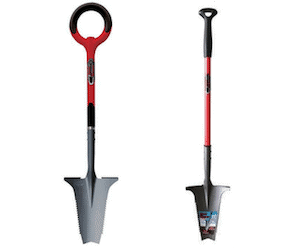 Radius Garden shovels are new to my arsenal of Metal Detecting Digging tools. I was skeptical at first until I used the Nomad. These shovels are not as strong as the previous Lesche shovels but they still hold up well and the price is right. I would stay away from prying up big rocks or boulders but don't be afraid to try out one of these shovels. If you find yourself stuck in hay fields and need something to cut through the think grass and roots, these shovels are my first pick.
I've used both Root Slayers and while they both do incredibly well, I do prefer the (O Handle) model. It is a little heavier (around 5 pounds) but with the (O Handle) you do get a lot more leverage. The downside is that they are a little longer than the 31" Lesch. About 14" longer and that makes a big difference. The Nomad is slightly shorter at 39" and weighs in at around 4.65 pounds. These shovels are cheaper in comparison to the Lesches.
How Much Do Metal Detecting Shovels Cost?
The prices will vary depending on where you look but I've found that Amazon typically will have the best price unless you have someone local who will through in some extras like a hat or a shirt. Below are Amazon links that will give you the most recent prices of each shovel.
Which Metal Detecting Shovel is Right for You?
So there you have it 6 Great Metal Detecting Shovels and why I like them. You can't go wrong with any of these picks. I'm sure there might be better options out there but I'm giving you my first hand experience using these shovels. You have to decide which shovel is right for you. Hopefully this article was helpful. If you have any questions or have your own opinion on a different shovel that you would like to share, please drop a comment below. I'm always looking for new metal detecting gear to try out. 
Looking For More Metal Detecting Gear?
I've also written about some of the other metal detecting gear I own or have used. Check out these articles:
NOTE: Sections of this post contain affiliate links that allow you to find the items mentioned in this blog post and support the site at no cost to you. While this site may earn minimal sums when the reader uses the links, the reader is in NO WAY obligated to use these links. Thank you for your support!.